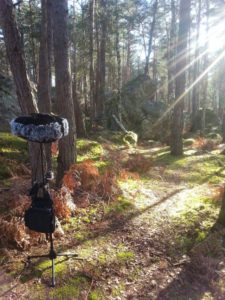 Phonography is an itinerant artistic project that presents in a poetic and contemplative way, sound and visual snapshots of different ecosystems of our planet.
Phonography is a project related to "Field Recording" and  "Audio Naturalism ". We will focus mainly on wilderness, unspoilt places, where wildlife predominates and where animals are free. We hope to aware our societies about the beauty of mother nature and the preservation of the different biotopes of our planet.
Phonography is also the witness of our time, capturing these "sound photographies" highlighting the biodiversity of wildlife, flora but also human, culture and civilizations.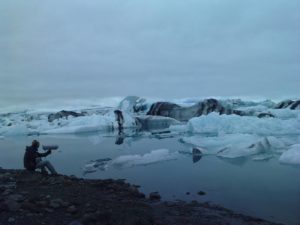 We have been working on this project since 2016 and we started by organizing our first sound trip : the preparation took us two years (itinerary, budget, material and technical preparation): we transformed a utility van into an autonomous mobile studio, which allowed us to move off the trails, in remote and wild places. We also equipped ourselves with sound recording equipment, making it possible to capture in professional quality the natural atmospheres we are going through, as well as specific recording gear for capture animal sounds. The image were captured using two small HD camera, traditional and 360 °.
For this first attempt, we crossed the Americas for a year, from north to south, from Alaska to Ushuaia. The journey closely followed the "Pan-American Highway". Indeed, this route will allow us to cross most of the biotopes and ecosystems of the planet. (Tundras, boreal forests, mixed and temperate forests, steppes, deserts, tropical rainforests, Andean highlands, glaciers, grasslands, …)
Through this website we will do our best to reproduce and share these sound experiences as well as possible. You will find on this space several pages allowing listening, watching, or reading articles relating to our project:
Sound Map: A true invitation to travel, this interactive sound map will allow you to explore the world and above all to listen to and view our phonographies within a single click.
Sound Trip: This section lists and references everything relating to our sound trips. (Itineraries, roadbooks, photos, sound recordings and articles)
Phonography: Sound gallery of all phonographies. Let yourself go to contemplation.
One Night on Earth: "One Night on Earth" is a recording sound project of a night, somewhere on Earth. This approximately eight-hour recording was then condensed, and edited into a one-hour contemplative album recounting that particular night.
Sound library: We have also collected and documented our various sound recordings in sound libraries intended for professionals. We list them here.
This post is also available in:

Français (French)